This Sunday marks the end of our 6 week block of studying the Kime No Kata.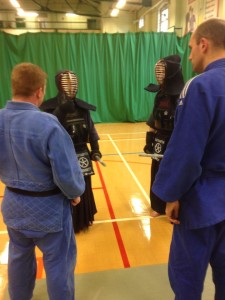 The Kime no Kata is a kata from the late 1800s that involves defenses against, grabs, strikes, kicks, daggers and even sword. We have taken the opportunity to invite sword experts to the club and help us understand how to correctly handle the sword in particular.
We have had two visits, one from the Southampton Kendo Club and secondly from the local Iaido Club. Both these Japanese forms of sword martial arts have taught us different but important things for our Kime no Kata.
As we turn our primary focus of our Sunday technical sessions away from Kime no Kata we will continue to practice and learn with extra sessions in Portsmouth planned along with more time at the club also.
We hope to put several couples into the national Kata championships on October 4th in Crawley, so we have a great preparation period to continue to learn the kata and develop it to a better standard. Members are encouraged to express interest (to Lance) if they would like to train for the kata championships.
A big thank you goes to the Kendo and Iaido instructors and students who visited our club. We hope to continue building friendships with other clubs.