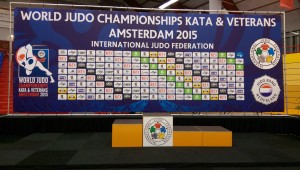 Our coach, is currently away in Amsterdam at the 2015 IJF World Championships Kata & Veterans.This is great for the club as it encourages us to invite guest instructors into teach whilst regular coach Lance Wicks is away. Our coach is then also able to bring the experiences and knowledge from attending these events back into the club.
The Kata championships was held this weekend. Five kata were competed in; including the Kime no Kata which we have been learning and look forward to entering our own players into the British Kata Championships in October.
The Veterans Championships is open to Judoka over the age of 30. With 5 year age categories, divided into 14 categories there will be huge amount of action happening over the five mats,over five days. British Judo (and Hampshire Judo) has a strong veterans community with regular competitions and training sessions held  that people who are older can enjoy. Many coaches (Including our regular coach, Lance and some of our guest coaches have competed at the World Veterans and can recommend it as a great experience. It is a very welcoming and fun community where the competing is equalled by the socialising and definitely eclipsed by the friendships.
Whilst Lance is away, everyone should attend the guest instructor sessions as we are very fortunate that these individuals have agreed to visit and share their time, enthusiasm and knowledge with us.